Commercial Building Fabrication and Engineering Low-e glass Aluminum Frame Glass Curtain Wall Cladding Design and Construction
Main Features of Full-glass Curtain Wall:
1. The full-glass curtain wall is fully transparent and all-in-view and pursues exchange and integration between the inner and outer spaces. People could clearly see the whole structural system of the glass, so as to turn the structural system from a supporting role to performance visibility and to demonstrate a sense of architectural aesthetics, type, hierarchy, and space impression.
2. The system is light in weight and features a simple selection of material, processing in factories, fast construction, and convenient maintenance. Also, it's easy to clean.
3. For the effect of enriching architectural elevation, this system is unparalleled and is a perfect embodiment of the modern science and technology in the building decoration.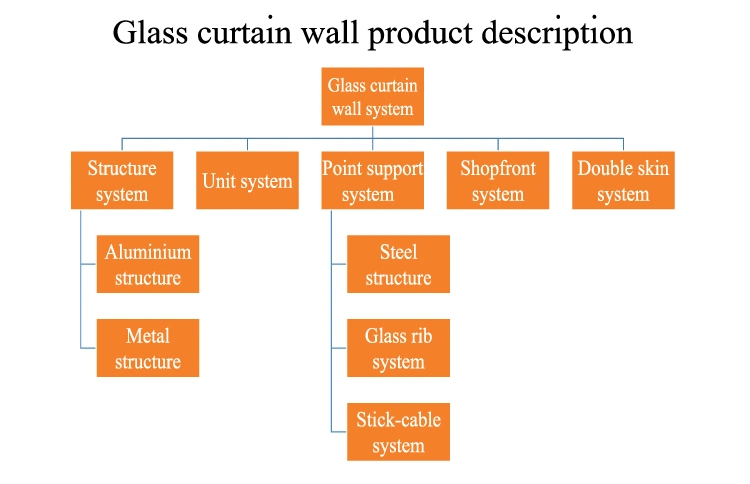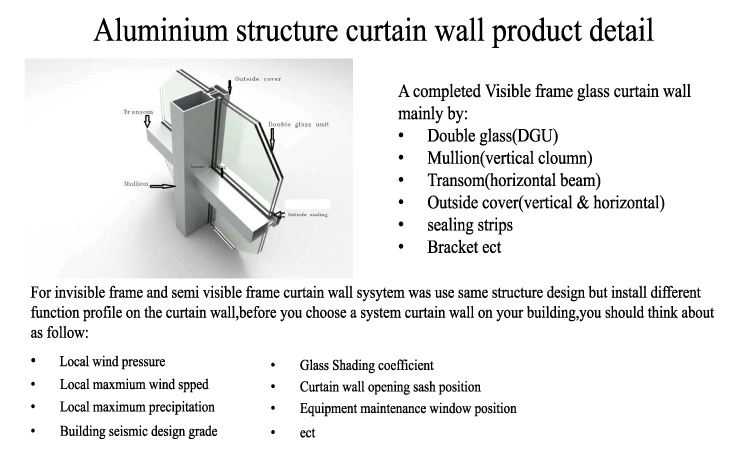 Aluminum frame glass Curtain Wall

Aluminum frame, glass, accessories

a:Alloy: aluminum

b.Thinckness:110mm/120mm/130mm/140mm/150mm

c.Color:any color

d.Finished:Anodized/Powder coating/Electrophoresis

a: Single Glass:5mm-12mm.

Double Glass:5mm+9A+5mm/6mm+9A+6mm/or the others

Laminated Glass:5mm+0.38pvb+5mm/6mm+0.76pvb+6mm/or the others

b:Color:Tinted(Grey/Green/Blue/Tea/or the others) or clear

c:Special:Low-E Glass/Reflected Glass/Tempered Glass/Float Glass/Art Glass

Design And Fabricate According to Customer's detail requirement.

Professional design, High-quality fabrication, and experienced installation

within 45 days after confirming the shop drawing.
Glass Curtain Wall System:
• Frame Supported Glass Curtain Wall
• Unitized Glass Curtain Wall
• Point Supported Curtain Wall
• Full Glass Curtain Wall
• Double Skin Glass Curtain Wall
• Photovoltaic Curtain Wall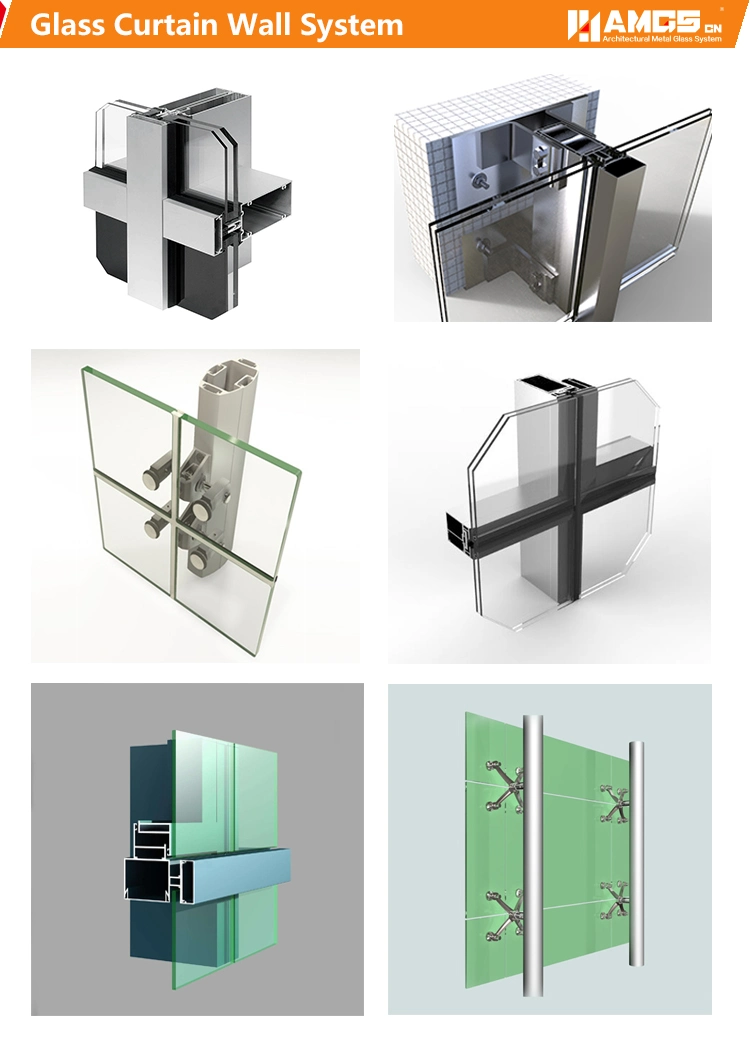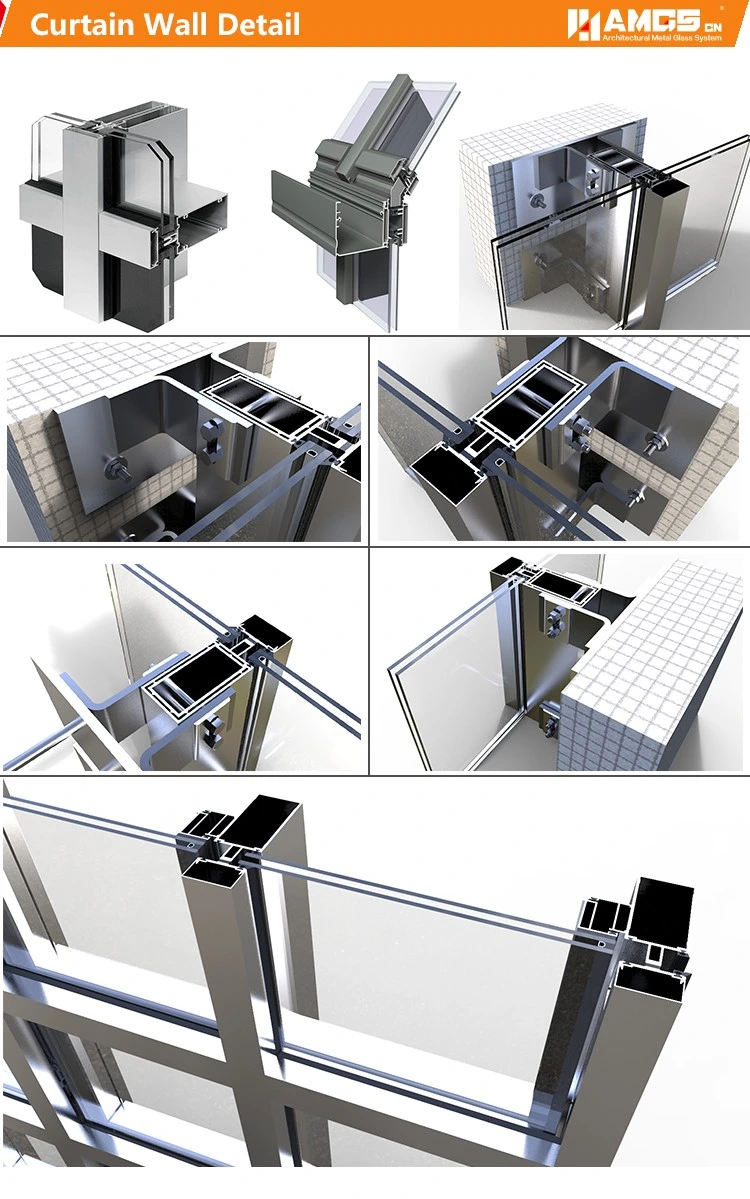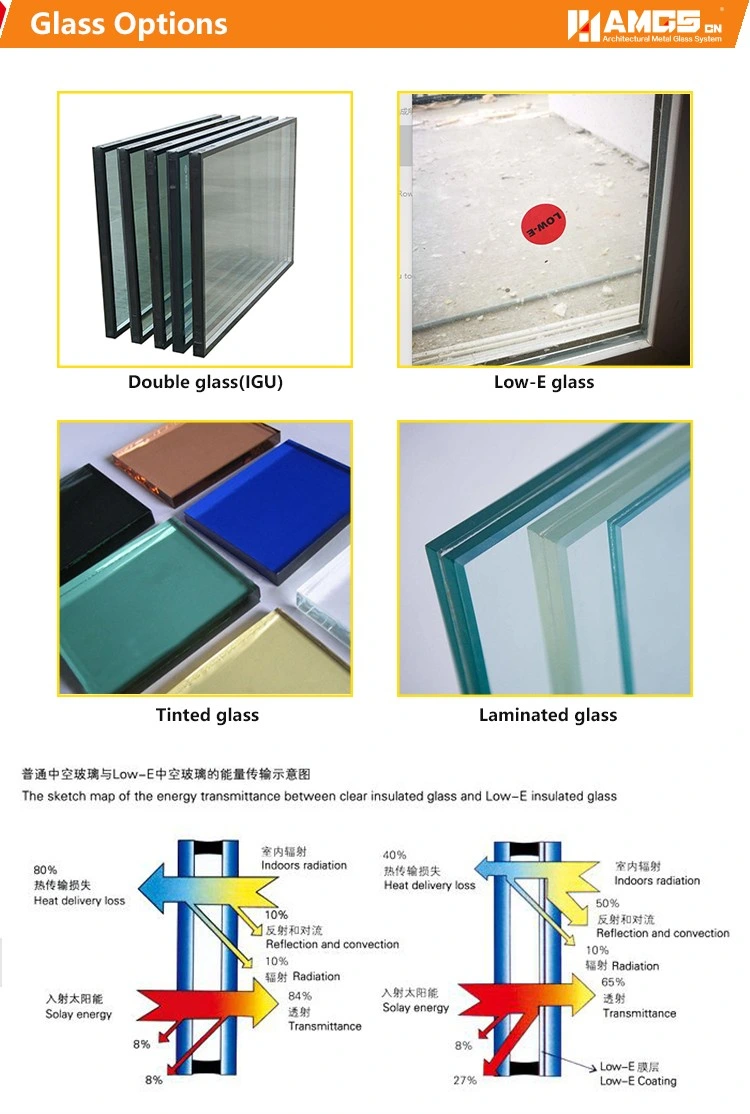 Our Services
One-Stop Solution Services:
1.Sample Services: we provide a sample as customer's request
2.Customized Services: size, color, finish, glass

Different Country has different climatic characters, We provide professional solutions on Doors & windows Profiles surface treatments and glazing to meet its diversity, it concerns the longevity of windows or doors and each function of energy-absorbing & saving.
AMGS also provides a one-stop solution service for your project, like the profiles Design, the wind resistance, waterproof, Soundproof, energy rating testing, Installation.
In addition, We Provide a one-stop service for shower screen, balustrade, pool fencing, etc other building materilas to save your labor, money, and time.

Packaging & Shipping
1. Protective tape protects products around ;
2. Use corner protection to protect products coner;
3. Keep windows or doors fixed on Wood case;
4. Tie up windows or doors with woodblock;
5.PE films to keep away from seawater;
6. Tie up the whole wood case with Iron straps.
Our packages will ensure the windows and doors arrive at the project job site in good conditions.