Exterior Facade Aluminum Frameless Glass Curtain Wall Storefront/Unitized/Invisible Frame/Structure Aluminum Glass Curtain Wall Manufacturer
products fratures advantage
The aluminium curtain wall system is simple to set up and mount,but unprecedented in the number of possibilities,with include:type of water drainage,compartment or channel drainage,and which cover strips to use for the outside of the facade. Within it is also possible to construct a (semi-) structural facade.The inside construction will be the same in any case.An ample assortment of profiles ensures that construction with this complete facade system can be designed and built,The most divergent facade solutions are possible in terms of design,anti-theft,fire resistance and(hidden) movable parts.All profiles are processed at the factory and only need to be installed at the site.
System performance:
1.Sound resistance Rw to 48 dB
2.Wind and watertightness to 1000 Pa (depending on design)
3.Anti-burglary
4.High thermal insulation (depending on design)
System characteristics:
1.Unique glazing sizes from 6 through 50mm
2.High glass weights to 300KG
3.View width 60mm
4.Different cover caps on the outside
5.Inside and outside color as desired

Material

glass,accessories

Color

any color

Profile
a:Alloy:aluminum

b.Thinckness:110mm/120mm/130mm/140mm/150mm

c.Color:any color

d.Finished:Anodized/Powder coating/Electrophoresis
Glass
a: Single Glass:5mm-15mm.

Double Glass:5mm+6A+5mm/5mm+9A+5mm/5mm+12A+5mm/or the others

Laminated Glass:5mm+0.38pvb+5mm/6mm+0.76pvb+6mm/or the others

b:Color:Tinted(Grey/Green/Blue/Tea/or the others) or clear

c:Special:Low-E Glass/Reflected Glass/Tempered Glass/Float Glass/Art Glass
Customized

Design And Fabricate According to Customer's detail requirement.

One-stop solution

Professional design,High-quality fabrication and experienced installation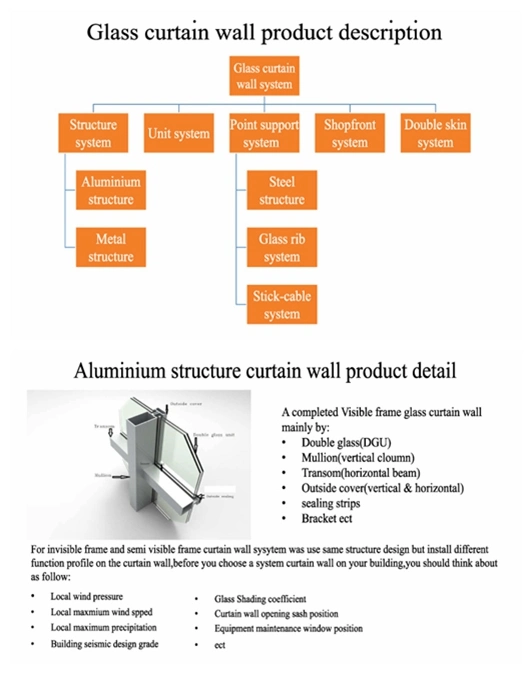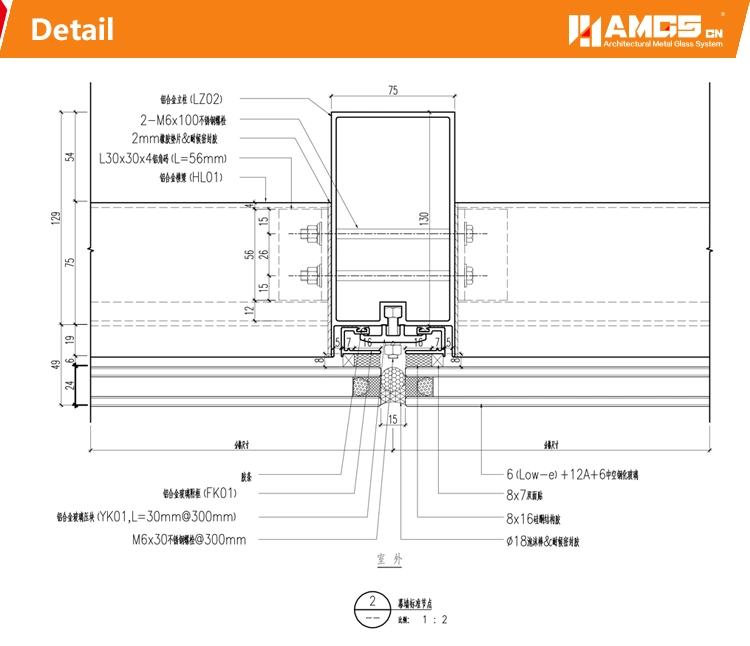 Glass Curtain Wall System:
• Visible frame glass curtain wall
• Invisible Frame Glass Curtain Wall
• Unitized Glass Curtain Wall
• Point Supported Curtain Wall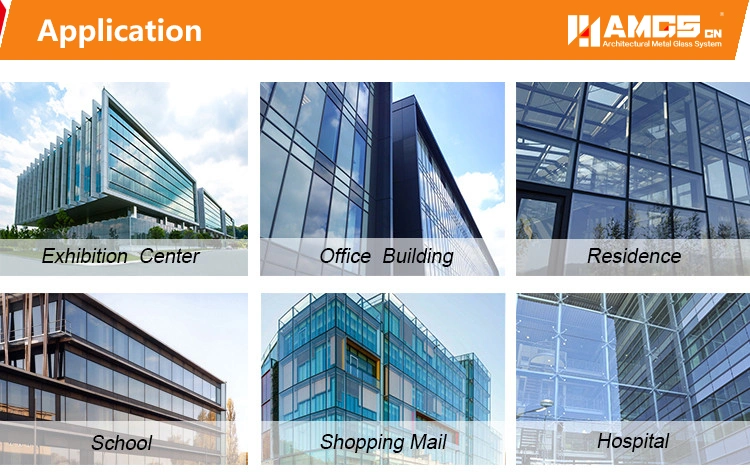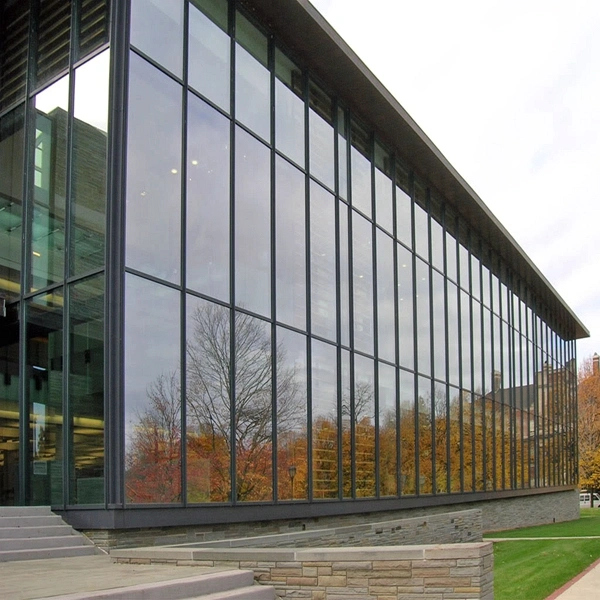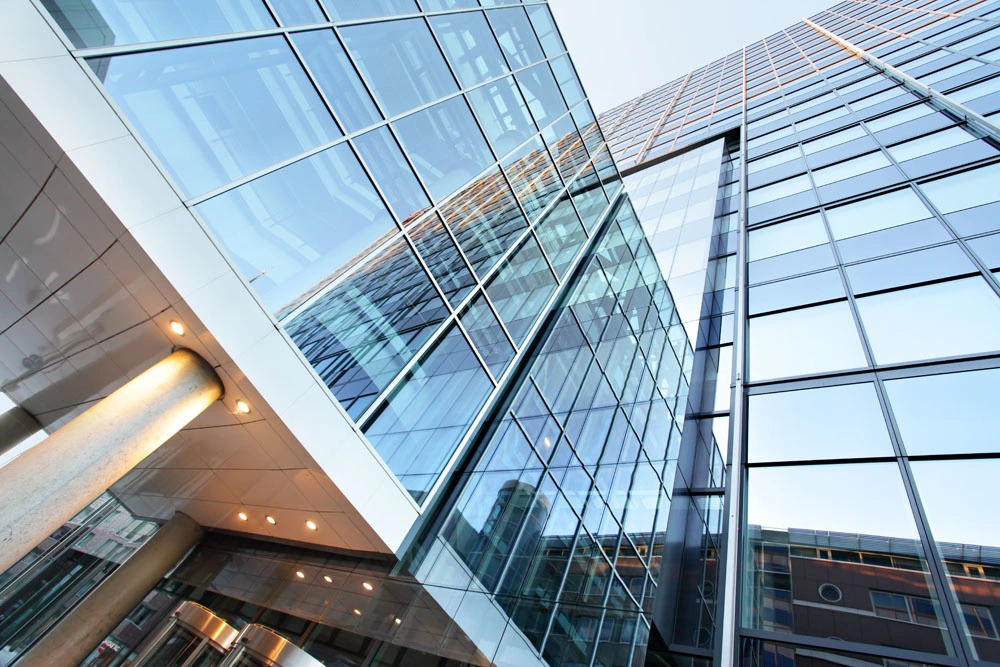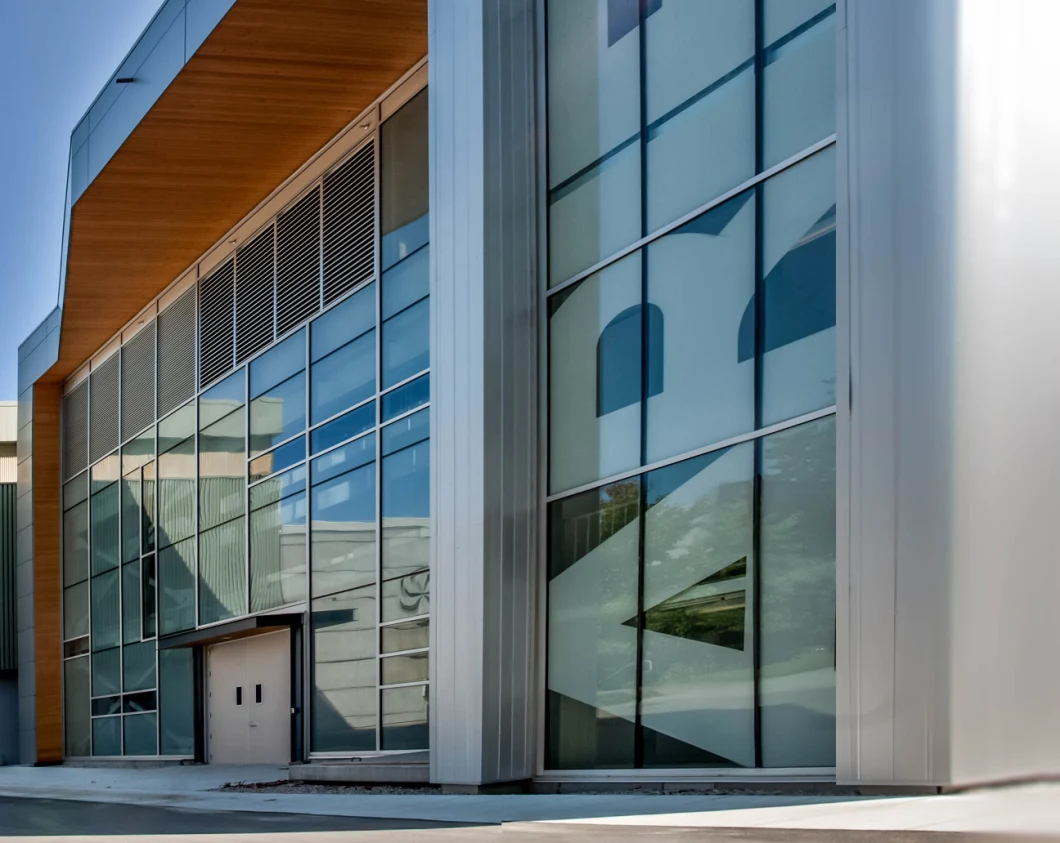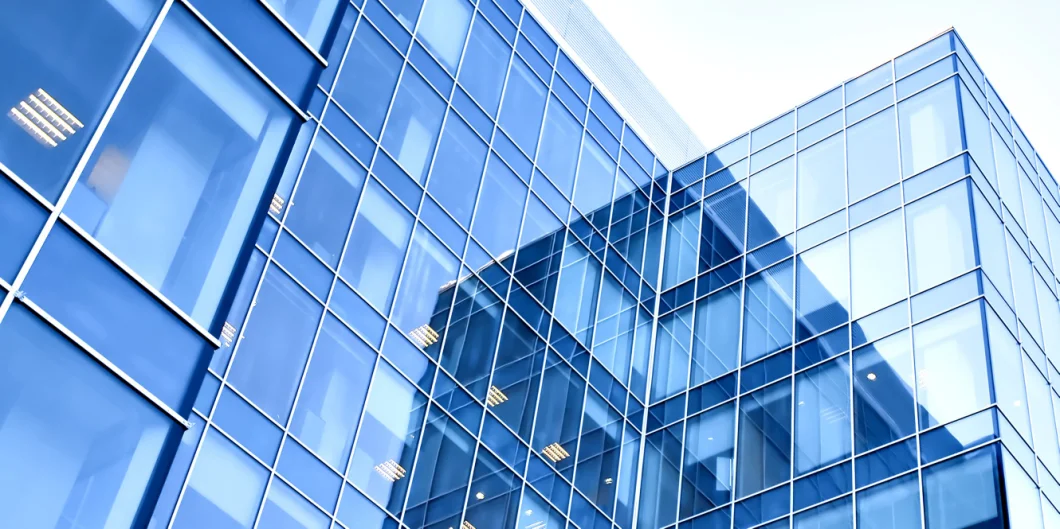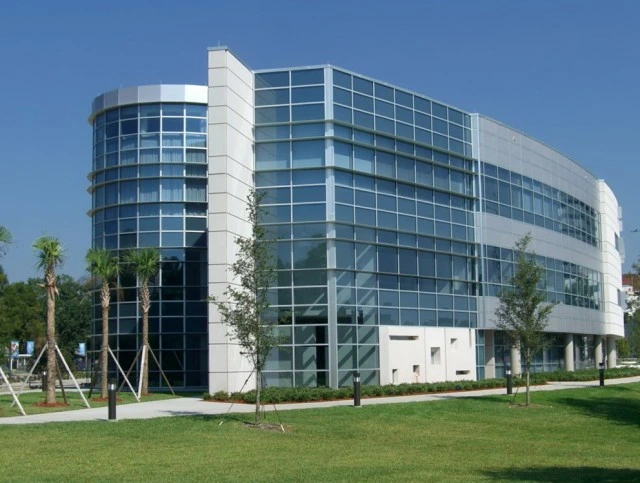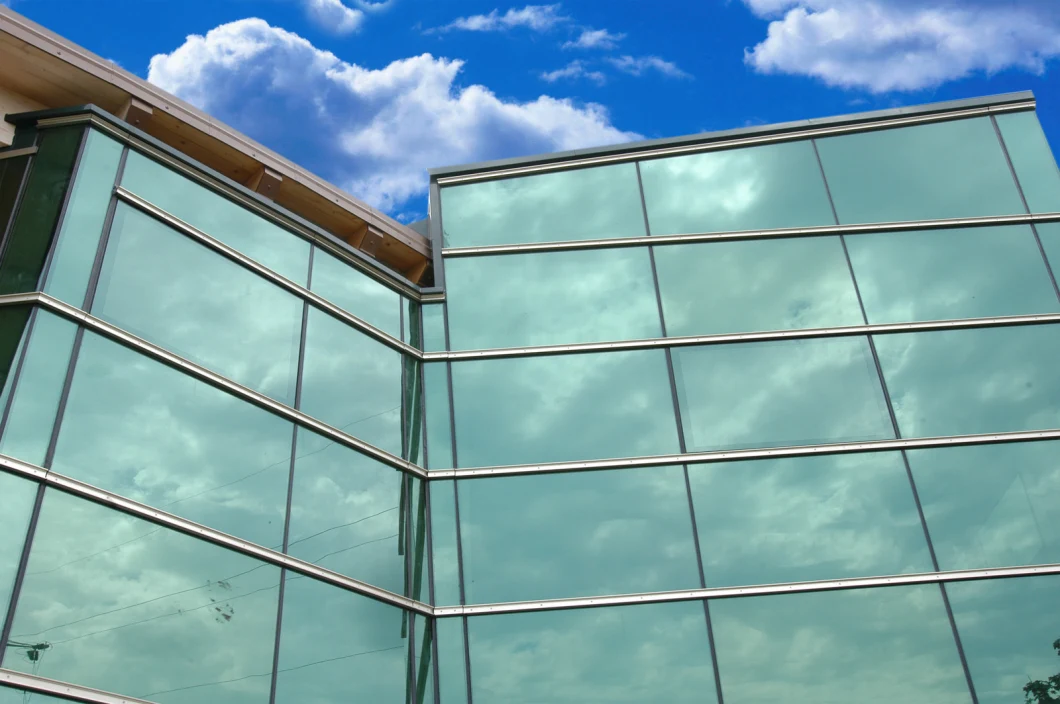 Main Features of Full-glass Curtain Wall:
1. Full-glass curtain wall is fully transparent and all-in-view, and pursues exchange and integration between the inner and outer spaces. People could clearly see the whole structural system of the glass, so as to turn the structural system from supporting role to performance visibility and to demonstrate a sense of architectural aesthetics, type, hierarchy and space impression.
2. The system is light in weight, and features simple selection of material, processing in factories, fast construction and convenient maintenance. Also, it's easy to clean.
3. For the effect of enriching architectural elevation, this system is unparalleled, and is a perfect embodiment of the modern science and technology in the building decoration.


• XL140ss is an outside glazed captured or SSG curtain wall system
• XL140ss has 2-1/2" (63.5) sight lines
• Standard 6" (152.4) or 7-1/2" (190.5) depth systems
• Infill options up to 1-1/8" (28.6)
• A pre-glazed option, 140 SS (Preglazed), is also available
• Perimeter seal can be installed at the pressure plate or mullion shoulder
• XL140 SS can be supplied fabricated and KD or in stock lengths
• Interlocking mullion design eliminates need for anti-buckling clips
• Concealed fastener joinery creates smooth, monolithic appearance
• EPDM gaskets and thermal break
• Screw spline joinery method allows shop assembly of ladder sections, reducing field labor
• Corners available with shear block fabrication method
• Offers integrated entrance framing systems
• Silicone compatible glazing materials for long-lasting seals
• Two color option
• PermanodicTM anodized finishes in seven choices
• Painted finishes in standard and custom choices
Optional Features
• Captured system thermal separator can be pre-installed into pressure plate
• Captured and SSG systems integrate with concealed GLASSventTM for curtain wall
• Captured system Integrates with standard Kawneer windows
• Deep and bullnose covers available
• Integrates with VersoleilTM Sunshade Outrigger System and Horizontal or Vertical Single
Blade System
• Profit$MakerTM plus die sets available
Product Applications
• Ideal for low to mid-rise applications where high performance is desired
• Most of the product assembly can be done in the shop rather than the field.
This allows for better quality control and reduces expensive field labor.

Glass Options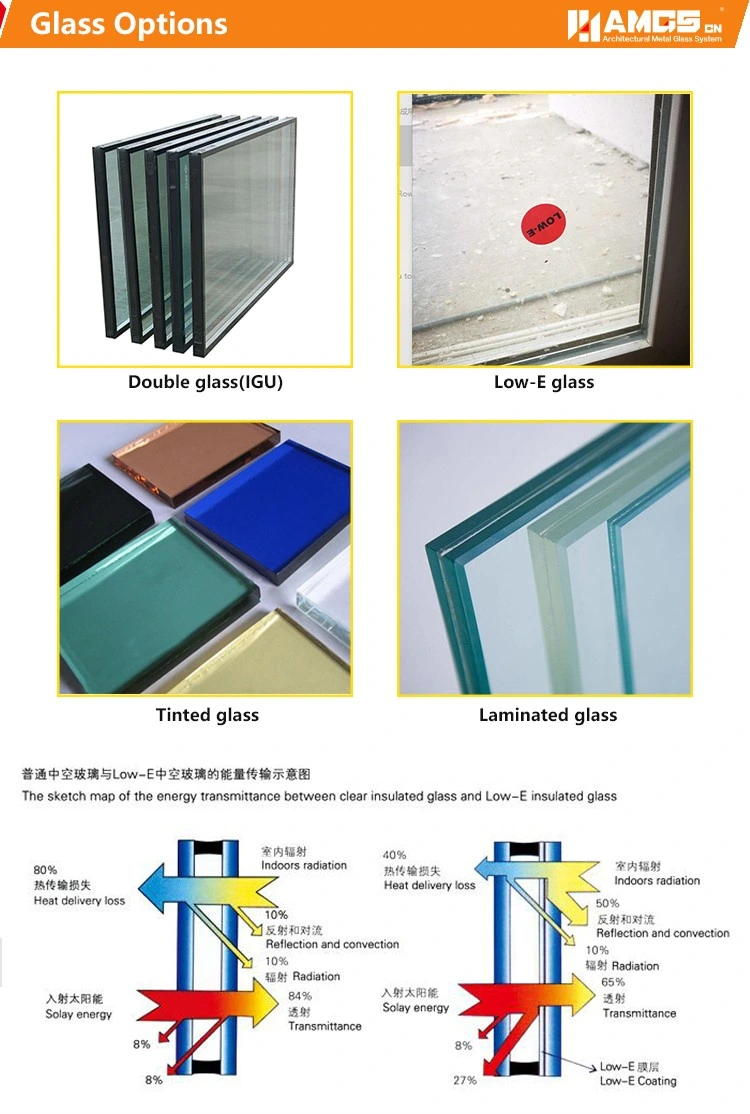 Packing & Shipping
1.Protective tape protects products around ;
2.Use corner protection to protect products coner;
3.Keep windows or doors fixed on Wood case;
4.Tie up windows or doors with wood block;
5.PE films to keep away from sea water;
6.Tie up whole wood case with Iron straps.
Our packages will ensure the windows and doors arrive at project jobsite in good conditions.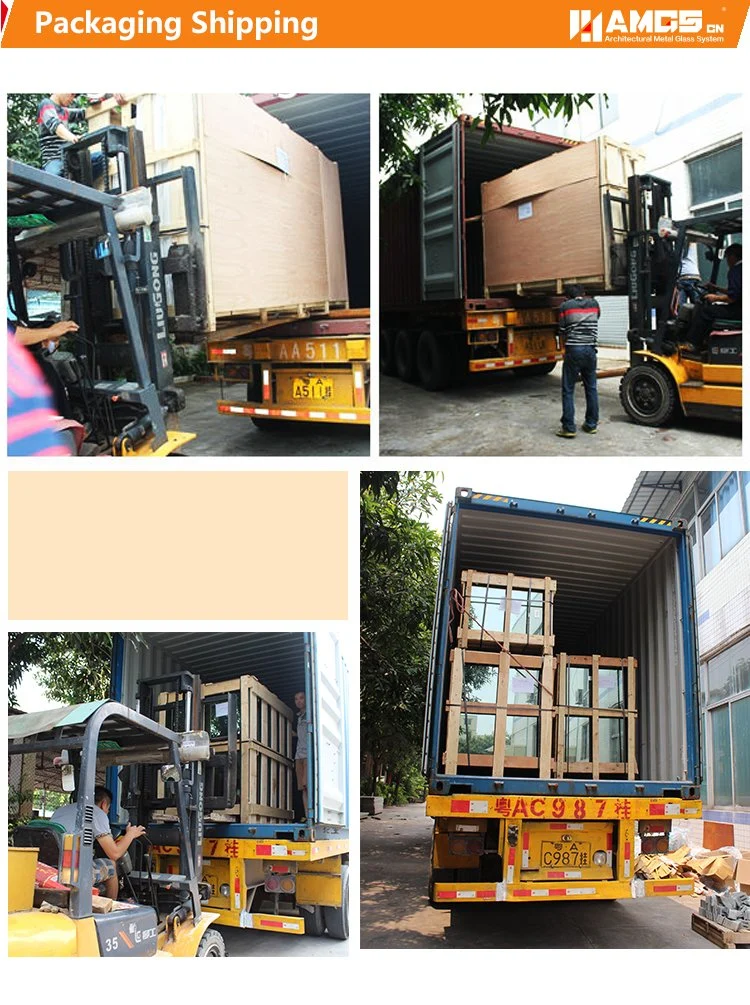 Company Information
Guangzhou Tiansheng Building Materials Co,Ltd

Located in Zengcheng District, Guangzhou City, Guangdong Province, China.
With 8000 Square Meter factory area, about 50 workshop workers and 20 office workers, with production of 10000 Square Meter per Month.
More than 20 sets of advanced machines with above 10 years domestic trade experience and 4 years international trade experience.
Manufacture and supply high quality pvc & aluminum windows and doors, and curtain wall.
An ISO 9001-2000 Certificate Company


Our Services
One Stop Solution Services:
Different Country has different climatic characters, we provide professional solutions on Doors & windows Profiles surface treatments and glazing to meet its diversity, it concerns the longevity of windows or doors, and each function of energy absorbing & saving.
We also provide one stop solution service for your project, like the profiles Design, the wind resistance, water proof,Sound proof, energy rating testing, Installation..
In additional, we Provide one stopservice for showerscreen, balustrade, pool fencing, ect other building materilas to save your labour, money and time.

Our projects