Electric Vertical Lifting Glass Wall Motorized Folding Partition Walls Retractable Glass Wall
THE AUTOMATIC VERTICALLY RETRACTABLE ACOUSTIC GLASS WALL is a custom manufactured, fully automatic, flat, rigid retractable wall system that provides vertically folding space division with excellent acoustic properties. The glass wall stores in the ceiling. No floor or wall tracks are required and there are no side storage pockets saving valuable floor space. Silent and completely automatic, you can reconfigure your space in minutes with a simple turnkey operation.
With no visible hinges or hardware, they are sure to meet all your esthetic design needs. Board rooms, offices, classrooms and cafeterias are just a few examples of spaces that can benefit from this vertical lift glass walls.



Features of Electric Vertical folding Glass Wall
1. Custom manufactured, fully automatic, rigid, flat retractable glass partitioning system

2. Space saving, the wall retracts into ceiling when not in use. No floor tracks are required and there are no side storage pockets, allowing for more efficient use of space.

3. Touch screen control, the wall can be automatic vertically retracts into ceiling in 2~5 mins.

4. The glass movable wall can be scaled to fit unlimited lengths with a vertical height of up to 7500mm.

5. The glass panel walls are light. They weigh is about 40KG per square meter depending on the finish and thickness.

6. Wide range glass can be used. In order to take full advantage of natural light the lifting glass wall finishes include clear laminated glass, frosted glass and privacy glass. With a high proportion viewing area they are sure to meet all your esthetic design needs, the answer when you need both space management and light.

7. High level of safety ensured by an integrated monitoring system that stops and reverses the panel on contact with an obstacle
8. Suit for office, classroom, meeting room, conference room, restaurant, university etc.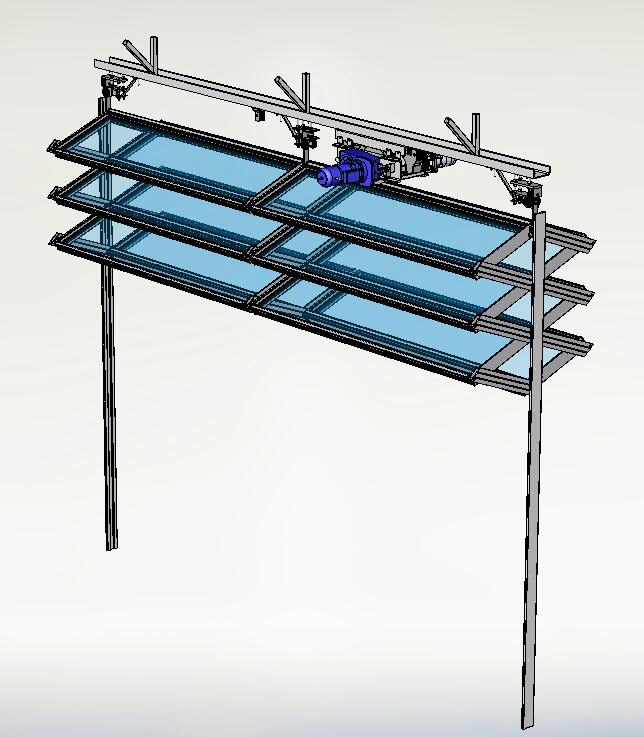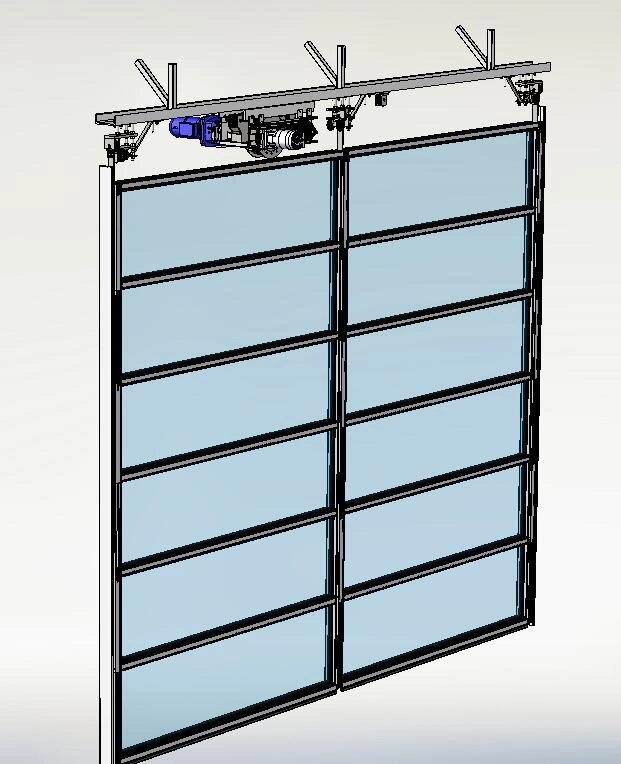 Performance Indicators
| | |
| --- | --- |
| Way of running | Vertical lifting |
| Power Voltage | AC 220V ,50HZ |
| Height | < 7500mm |
| Length | unlimited (3-6M per section) |
| Motor power | 4000W |
| Rotation speed | 0-65rpm (adjustable) |
| Rising speed | 10-350mm/s (adjustable) |
| Falling speed | 10-350mm/s (adjustable) |
| Running noise | <50dB |
| Obstacle detection function by descend | yes |
| Soft restrict detection function | yes |
| Power-off braking | yes |
| Maximum power consumption | 15000W |
| Ambient temperature | -20ºC~+50ºC |
The aluminum frame partition consists of glass surrounded with an aluminum frame. The standard aluminum frame partition finish in clear anodized color but it may be ordered powder coated or custom anodized.
Height
Maximum 7500mm
Length
unlimited, 3000mm-6000mm per section
Thickness of panels
8mm/10mm/12mm/16mm(single glass series), 35mm/65mm/85mm(double glazed series) or customed
Weight
about 45Kg/m2 for whole panels
Acoustic Rating
25-50db
Finished
: anodized or electrophoresis or powder coating to all exposed aluminum components available in a wide range of standard colors as required
Heat insulation and energy saving
: excellent insulation performance. According to different occupancy rate, large space can be divided into small space and transparent, so as to reduce air conditioning power consumption.
Efficient fire retardant
: the use of efficient fire-resistant materials, fire performance is good;
Beautiful and generous
: arbitrary decoration on the surface, which can be decorated with indoor decoration effect.
Designed to suit all applications the range is suitable for use in areas where flexibility is equally as important as performance, for instance:
» Office interiors and meeting rooms
» Conference and function suites
» Education establishments
» Exhibition centers
» Hotels and restaurants
» High clean factories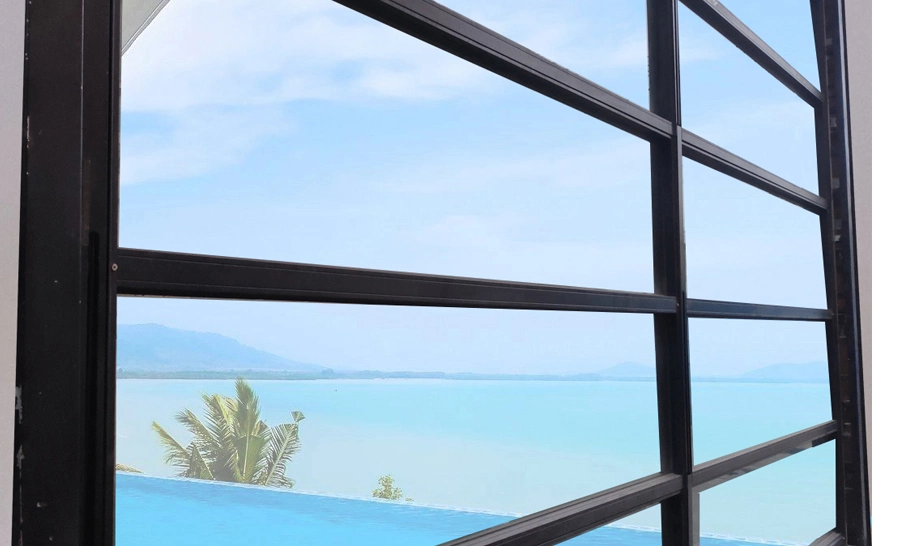 Movable Walls manufacturer custom-made wall partitions to meet various needs

We service all types of operable walls, room dividers and acoustical divider partitions.
Because movable partition walls are customized products. Each place has different sizes, we make steel framed operable walls and moveable partitions of a variety of materials depending on the application for sound transmission, durability, aesthetics, cost and function.
We listen to your goals, understand your needs, provide one-on-one private custom services, make recommendations according to your actual situation, provide professional design and contractor to coordinate building codes, structural and electrical requirements.


Service process

1. The client provides architecture drawings and indicates the location and extent of the partitions/doors. We will make design scheme and quotation according to the customer's site and requirements.

2. The client confirms the design scheme and quotation. We will arrange production after payment received according to agreement.

3. We will clearly mark packages and panels with numbering systems used on Shop Drawings, Packed in accordance with international export requirements, assist the customer to contact the shipping company to send the package to the customer's designated address.
4. We will provide installation instructions and shop drawings: Show location and extent of operable partitions. Include plans, elevations, sections, details, attachments to other construction, and accessories. Indicate dimensions, weights,conditions at openings, and at storage areas, and required installation, storage, and operating clearances. Indicate location and installation requirements for hardware and track, including floor tolerances required and direction of travel. Indicate blocking to be provided by others.
5. Upon request at least two experienced installers can be sent to direct the installation, commission and operation. Related visa application, round-trip transportation expenses, accommodation and food during installation and labor cost for our installation specialists will be extra calculated. A construction team of 3-5 people and related scaffolding, cranes, elevator, and other needed tools for site installation should be provided.
6. Adjust operable partitions to operate smoothly, easily, and quietly, free from binding, warp, excessive deflection, distortion, nonalignment, misplacement, disruption, or malfunction, throughout entire operational range. Lubricate hardware and other moving parts.
7. Delivered to the clients after confirmed all smooth operation, project perfect end.

Company Introduction
As manufacturing factory headquartered in guangzhou, an important port city of China's foreign trade, Guangzhou CN Electrical Equipment Co., Ltd. is a high-tech enterprise which integrating R&D, Manufacturing and Trading, one of the leading and exclusive manufacturer of Automatic Partitions and Automatic Doors and the only company in China which has a dedicated manufacturing plant of electrically operated vertical lift folding partition Walls in China.
Our factory covers an area of more than 12,000 square meters. We have our products installations throughout china and abroad. The annual manufacturing capacity to 500 sets of various automatic revolving doors and 10,000 square meters of motorized partition walls, we have produced and installed Automatic Doors and Electrical Movable Walls for all types of establishments like high end residences / conference room / banquet halls in hotels / auditorium / convention centre / meeting rooms / board rooms / training rooms etc.
All the materials used are in compliance to international standards such as ISO 9001, CE, IEC etc. With the strictly control for designed, production, inspection and services by our advanced quality management system, enable the products of Guangzhou CN Electrical Device Co., Ltd selling well in the domestic market, and keep rapid growth in the European, American, Asia and Middle East market. Successfully established strategic cooperative partnership with famous domestic and foreign enterprises like Siemens, Phillips, and BEA etc.

Factory Details
Our factory is equipped with state of the art hydraulic press brake bending machines, automatic cutting machines for cutting aluminium and MDF boards and complete equipment like drilling, milling, bearing and lamination press machines, processing and manufacturing any type of doors and movable walls as per customer choice.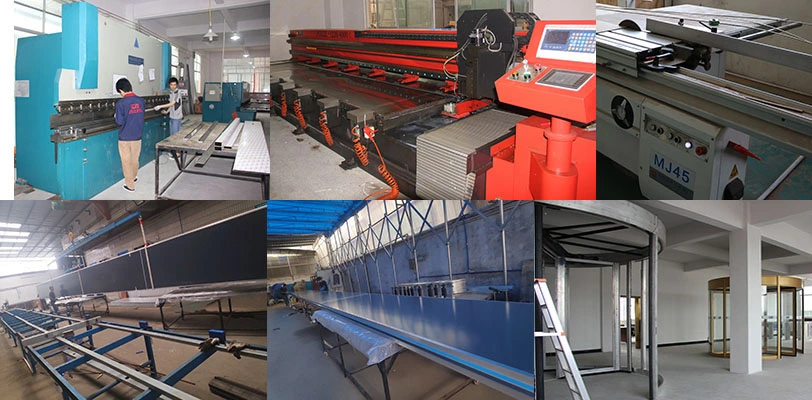 FAQs
1.Q: Are you a manufacturer or trading company?
A: We are a manufacturer, our factory covers an area of about 12,000 square meters and the building area is more than 9,600 square meters.
2. Q: What is the price of the movable wall?
A: Our mobile wall system is customized, the cost is calculated by square meters, prices vary widely according to thickness of walls and surface finish requirements. Therefore, for acurate quotation we need detailed dimensions such as height, width and finish requirements. If possible, we also need your layout drawings.
3. Q: Is the movable partition acoustic (soundproof)?
A: Yes, our movable wall system is soundproof. We have different acoustic material fillings and various sound absorbing panels to achieve different acoustic ratings.
The partition panels comes in different thickness, and different acoustic rating from 36db to 50 db depending upon the project requirement. We can provide panels with raw MDF or any type of finish such as laminate, veneers, white boards, fabric, pin-boards, painted surfaces etc to compliment your bilding environment and decor.
4.Q: How to install mobile partitions?
A: We provide installation guide services or send technicians as required. We have very detailed drawings and videos showing how to install, so your employees just need to follow them step by step.
5.Q: What is your payment terms?
A : 30% - 50% of total amount by T/T as deposit when confirmed the order and balance paid by T/T before loading container, or irrevocable L/C at sight.
6. Q : What is your warranty ? What do we do in case of problems?
A : 3 years quality warranty is provided, including frame unfading nor peel-off, hardware and accessories working properly under correct operation. In case of our quality problem, we will provide replacement by international courier. Immediate delivery of replacement parts with available in stock, and if not stocking, the time should be depending on material ordering time which is normally 10-15 days.